♥ characters ♥

Heyyyy! Here are some of the characters that have shown up/are going to show up in CYJ! Information about them will be added as I get farther along in the story and it's revealed, because otherwise they'd be spoilers... D:
---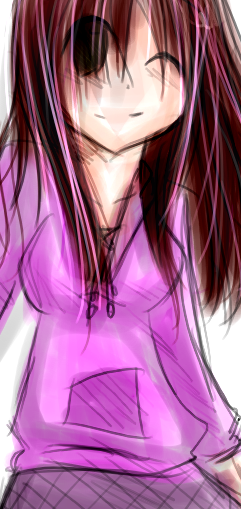 Name:
Misha Brooks
Age:
About 14 and a half (she's in her first year of highschool).
About
Misha is your typical shoujo heroine in a lot of ways - she's a bit clueless, just about always late to important things, and she sucks at cooking but still eats a lot of food anyways, yet she doesn't seem to really gain much weight. She's kind of a girly girl a lot of the time, I guess you could say, since she cares about the way she looks a lot. Most of that is just because she wants to get the attention of Torn Balfour, the guy she has a crush on, though.
Misha's parents died in a car accident when she was young, and she still kind of believes that it's her fault, and when she was young her brother Nefarence was highly overprotective of her and wouldn't let her spend time with many kids her age, so she was pretty lonely and didn't have many friends until she met Breezy and Marcus. She has a habit of lying about how she feels about things if she thinks it's for the best of the people she cares about, or if they'd be troubled by seeing her sad, though, so she doesn't cry or get angry very often. When she does, though, she tends to quickly swing back to an at least falsely happy mood. Her friends Breezy and Marcus can usually see through that mask that she wears, but when they question her about it she tends to always deny it.
Theme Song:
---
Name:
Marcus Rowe
Age:
15
About
Fun Facts:
-
---